Essay About Fashion Technology Institute
Ask F I T
How to Apply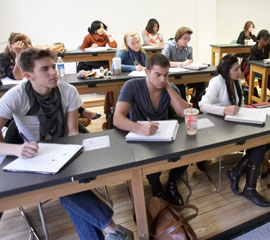 Take a look.
One of the best things to know about FIT is that you get to start your major-area classes right away. Find a major that fits your interests in FIT for You. Then apply in two steps:
Step One: File the SUNY Application Online
After you apply, you'll receive confirmation that your application has been received. The first letter will come from the SUNY Application Services Center.
The second confirmation will be sent from FIT to the email address you put on your SUNY application and will contain your username and password for your MyFIT account. It can take 7-10 days to receive the email from FIT after submitting the SUNY application.
Step Two: Submit FIT's Supplemental Admissions Materials
Admissions Essay
After receiving the initial confirmation from FIT, you will receive a second email providing an individualized link to submit your essay, and, if you are a transfer student, a list of your in-progress courses.
Your essay should answer the following questions: What makes you a perfect candidate for FIT? Why are you interested in the major you are applying to? The essay is also your chance to tell us more about your experiences, activities and accomplishments. (No more than 750 words, please.) If you are a transfer student, you will be prompted to submit information about your in-progress courses, including course name and numbering and the name of the school you are currently attending.
School Transcripts
Arrange to have all official secondary and post-secondary transcripts sent directly from your schools to FIT. Transcripts may be sent by mail or hand-delivered in the sealed envelope to the address below.
Fashion Institute of Technology
Office of Admissions, Room C139
227 West 27th Street
New York City 10001-5992
FIT will only accept academic documents that have been officially attested (bearing the stamp and signature of the Registrar or designated officer) and placed in a sealed envelope by the issuing institution or awarding authority.
As an alternative to mailing, FIT will accept electronic transcripts from the following approved vendors:
Parchment
Naviance by Hobsons
SUNY Counselor Connect
Credential Solutions
Documents from all institutions must be provided (with no exceptions), regardless of the type of institution, subjects taken, or their relevance to FIT. Such documents should include all subjects taken, all grades/marks earned, and any degrees awarded. If you are a high school student earning college credit, please forward a transcript from the awarding college or university.
Home-schooled applicants are encouraged to review the SUNY policy for providing appropriate proof of graduation.
Official AP and/or CLEP scores, if any, are required when available. Official IB (International Baccalaureate) diplomas or certificates, if any, must be provided by the IBO.
International applicants:
If you have studied abroad, or you attended secondary or post-secondary school(s) outside the U.S., please submit your academic documents from schools outside the U.S. to a member of the National Association of Credential Evaluation Services not to FIT. See Undergraduate International Applicants for more information on submitting transcripts.
Additional Application Materials
Portfolio
If you are applying to a major in the School of Art and Design, you must submit a portfolio. You will be invited to submit your portfolio once your SUNY application has been received and processed by FIT. Please do not submit any artwork with your application.
School of Business and Technology applicants may not submit a portfolio and materials received for these majors will not be reviewed or considered.
English Proficiency: TOEFL, IELTS, or PTE Score
If your first language is not English, you must provide an official Test of English as a Foreign Language (TOEFL) score, an International English Language Testing System (IELTS) score, or a Pearson Test of English (PTE) score—regardless of how long you have lived in the United States. See the section under English Proficiency for more information.
SAT and ACT Scores
SAT and ACT test scores are not required for admissions purposes. They are, however, required for the Presidential Scholars (Honors) Program. They are also required for placement into your English and Math classes at FIT. Use FIT school code 2257 when sending SAT scores and code 2744 when sending ACT scores. Visit Placement Tests for more information.
International Students who have not taken the SAT or ACT exams will take Placement Tests before registering for any English, Math, and Science courses.
More Information
For more specific application details, see the following:
Please be aware that documents submitted become the property of FIT and will not be returned. This includes official transcripts, test scores, and portfolio submissions.
I am a high school senior applying to FIT for Fashion Business Management, which is previously known as Fashion Merchandising Managememt. Here is my admissions essay. Constructive criticism? Feedback? Thank you!

Essay question: What makes you a perfect candidate for FIT? Why are you interested in the major you are applying to? We'd like you to tell us in an essay. This is your chance to tell us more about your experiences, activities and accomplishments. (No more than 750 words, please.)

Back in the sixth grade as I sat in computer class, my teacher said: "Raise your hand if you are going to college." I looked around in confusion as everyone in my class raised their hand, but I didn't. College sounded like a foreign country to my 12-year-old self. I had no idea what college I wanted to go to or what career I wanted to pursue; it was the last thing on my mind. I've never been the smartest, and the fact that I'm both athletically and musically impaired didn't help. I've always just been that girl who has an impressionable sense of style. Flipping through fashion magazines and going through my closet to put outfits together has always been my happy place. Style is a form of self-expression that allows me to be creative on a daily basis. However, not once did it cross my mind that I could make a career out of this passion.
During my freshman year of high school, I signed up for a class entitled: "fashion design." I thought this class would be nothing more than a fun elective on my schedule. To be honest, I wasn't even too sure about the definition of "fashion design." I was blown away when after a few months, this class became the most important one on my entire schedule. I committed so much time and put in considerable effort to excel in this class. I learned not only how to draw fashion croquis, how to read a pattern, and how to construct a garment; but about the history of fashion and the broad spectrum of careers in the fashion industry. I continued on, taking the advanced class of "fashion portfolio" for the next three years of my high school career, learning more about the world of fashion each time.
During my junior year of high school, my fashion teacher, Mrs. Murphy, introduced me to the precollege programs offered at the Fashion Institute of Technology. Being the go-getter that I am, I wanted to do anything I could to jumpstart my career in the fashion industry. At this time, I wasn't sure if I wanted to pursue a career in the designing aspect of fashion, or the business side of the industry. So, in the Fall of 2014, I signed up for two Saturday live classes: "Anatomy of Fashion" taught by Professor Christopher Uvenio, and "In-store Merchandising Techniques" taught by Professor Mary Constantini. Every Saturday for eleven weeks, I took the Long Island Railroad to Penn Station and walked my way to the corner of 7th Avenue at 27th Street. "Anatomy of Fashion" taught me all about the history of famous fashion designers while I learned new drawing techniques for designing the fashion croqui. "In-store merchandising techniques" taught me all about dressing mannequins, creating display windows, and the basics of fashion merchandising. Each class was vastly different, but I loved them both. I had the absolute time of my life while a precollege student at FIT. The fast-paced environment in New York City felt like home, and the atmosphere at FIT stole my heart. I adored both of my professors and made new friend who shared in my similar interests and goals. It didn't take long for me to realize that the fashion industry is where I belong.
The following semester, in the Spring of 2015, I decided to sign up for two more Saturday live classes. This time, they were both business classes: "The Ins and Outs of Fashion Merchandising" with Professor Suzzane Piazza, and "Fashion Forecasting: Seeing into the Future" with Professor Gary Wolf. Unlike the previous classes that I completed, these two were very similar. I learned all about the merchandising aspect of the fashion industry while taking field trips to various locations throughout the city to work on projects. I learned how to spot and forecast fashion trends, how to put a trend report together, and so much more. After completing these two classes, I decided that I wanted to major in fashion merchandising. There is a vast majority of careers within fashion merchandising that interest me. Nevertheless, my ultimate career goal is to work my way up to become a celebrity stylist and I'll do whatever it takes to reach this goal. The Fashion Institute of Technology is not only the school of my dreams, but it has a special place in my heart. I plan on pursuing my fashion career on the corner of 7th Avenue at 27th Street.

0· Reply·Share on Facebook